Trick and treat your neighbourhood
October 15, 2018 Melissa Berrigan
---
It's time to get spooky with outdoor Halloween décor
Halloween is the perfect time for spooky (or whimsical) outdoor decorations. The weather is cool, the colours are changing, and the nights are long and dark. Plus, all those trick-or-treaters are about to hit the neighbourhood running.
Spellbound your neighbours with these spooktacular Halloween decorating ideas.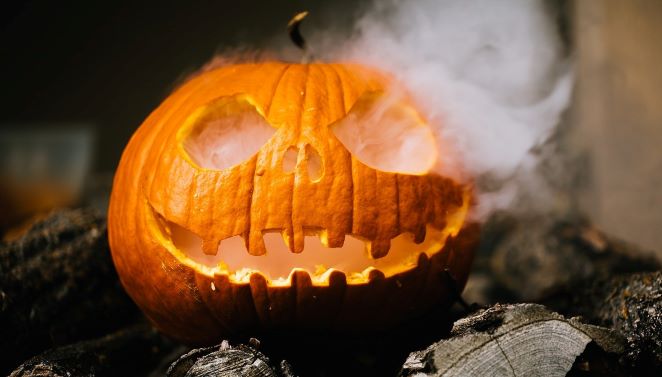 5 ways to transform the exterior of your home this Halloween
Bag some ghosts
If you have large trees on your property, you've likely spent a lot of time raking leaves to get your yard ready before winter weather settles in. Rather than sending those leaves straight to the compost bin, have fun with them.
Stuff white yard bags with leaves and mark the bags with black eyes to make ghosts. You could also fill black garbage bags with leaves and use yellow eyes to make black cats. Whichever creature you create, scatter throughout the yard and add a few tombstones for good measure.
Cast a spell
Hang bats, ghosts, and skeletons from tree branches, archways, and garden gates to help haunt your home. Create cobwebs with some clothesline rope and transform your front porch, garage door, or the entire front surface of your home. Be sure to include an army of spiders.
Add a dramatic touch with ghostly outdoor draperies and a seated skeleton to greet guests .
Distress doors and windows
Give the front door and windows of your home a haunting makeover with the addition of spider webs, shadowed creatures lurking in the curtains, or stenciled designs that transform windows or clear doors into a spooky scene.
Get a ghoulish glow
Light up any dark path, set of stairs, or dark room with an assortment of lanterns or luminaries to deliver an ambient glow.
Lanterns can be purchased or easily repurpose old ones for Halloween with a quick touch of paint. Luminaries can be constructed from materials you may already have—like canning jars and tealight candles.
Sharpen those carving tools
It wouldn't be Halloween without the addition of a pumpkin—or five!
Whether you choose to go natural, carve them up, or slap on a coat of paint and some glitter, you can't go wrong when you decorate your front porch with pumpkins.
~
If you'd prefer not to give the trick-or-treaters a fright, be cheery instead of eerie with your decorations. Use funny signs, friendly jack-o-lanterns (or painted pun-kins), a simple wreath, and a festive doormat to lure those mini monsters towards the front door.
These are just a few ideas to get your blood pumping. The possibilities are endless when you wake your imagination from the grave.
Happy Halloween!